Chowmahalla Palace Hyderabad: Timings, Entry Ticket Price, Location
Chowmahalla Palace stands as the splendid residence of the Nizams of Hyderabad State, located in Hyderabad City, Telangana.
Hyderabad is full of astonishing Monuments that make you feel like living in a novel. The engrossing Chowmahalla Palace stands as a remarkable monument, exuding an opulence that echoes the timeless might of ages past. It was the seat of power of the Asaf Jahi dynasty (1720-1948) and was the official residence of the Nizams of Hyderabad during their reign.
The construction was started in the year 1750 by Nizam Salabhat Jung and completed in the year between 1857 and 1869 during the reign of Nizam Afzar-ud-Dawla Bahadur. It spreads over an area of 45 acres, extending from the Laad Bazaar in the north to the Aspan Chowk Road in the south. It is said that the palace is a replica of the Shah's palace in Teheran, Iran.
What is Chowmahalla Palace famous for?
| | |
| --- | --- |
| 1. | Khilwat Mubarak (Palace) |
| 2. | Clock Tower |
| 3. | Museum |
| 4. | Roshan Bangla |
| 5. | Council Hall |
| 6. | Southern Courtyard |
| 7. | Northern Courtyard |
Chowmahalla Palace has two courtyards, the Northern courtyard, and the Southern courtyard. The southern courtyard is the oldest part of the palace. It consists of four graceful palaces namely, Tahniyat, Mahtab, Afzal, and Aftab Mahal. But the southern courtyard is open to the public.
The southern courtyard is also not less than the Northern courtyard. The main attraction of the southern courtyard is the Bara Imam, which is a long corridor with rooms on the east wing. This was once an administrative wing. Another captivating part is Shishe-Alat, a courtyard used to welcome Guests.
Khilwat Mubarak is the heart of Chowmahalla Palace. Durbar of the Nizam was held in this part of the palace. It has 19 chandeliers of Belgium crystals and ornate architecture on the walls that makes the place more ravishing. Below the arcade, is the Marble platform on which Takht-e-Nishan (Royal Seat) is placed.
The council has been converted into a museum. It displays a rare collection of manuscripts and priceless books. The museum included treasures of Nizam from their Clothes to Utensils, Wooden furniture to Weapons. It also has paintings, photographs, textiles, books, religious objects, and maps. Surely, Nizams were a connoisseur of aesthetics. Vintage cars and Buggie are another attraction in the palace.
The main attraction you get to see once you enter the palace is Clock Tower. It is right above the main entrance gate. This clock has been ticking for around 250 years. Another beautiful structure is Roshan Bangla, named after the 6th Nizam's mother. Roshan Begum.
This is a perfect place to visit who is interested in history and loves to visualize Historical Monuments. You get amazing perspectives to click photographs. You can't miss such an amazing place, once you visit Hyderabad.
Chowmahalla Palace Entry Timings:
| | |
| --- | --- |
| Days: | Timings: |
| Saturday | 10:00 am – 5:00 pm |
| Sunday | 10:00 am – 5:00 pm |
| Monday | 10:00 am – 5:00 pm |
| Tuesday | 10:00 am – 5:00 pm |
| Wednesday | 10:00 am – 5:00 pm |
| Thursday | 10:00 am – 5:00 pm |
| Friday | Closed |
Chowmahalla Palace Entry Ticket Prices:
Rs. 50 for Indian Adult
Rs. 10 for Indian Child (Below 12 years)
Rs. 200 for Foreigners
Rs. 50 for Still Camera
Rs. 100 for Video Camera
Tripods not allowed
Chowmahalla Palace Photos: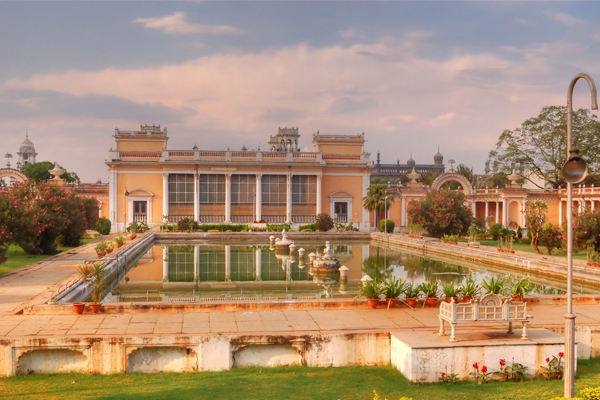 Check Out Palace Video:
Contact Details:
Owner: Azmet Jah
Official website: www.chowmahalla.in
Office Number: 04024522032
Email: chowmahallapalace@yahoo.co.in
Location Details:
Chowmahalla Palace is only 1 km away from Charminar.
Address: 20-4-236, Motigalli, Khilwat, Hyderabad, Telangana 500002
Get Direction:
FAQ:
Que: On which day is Chowmahalla Palace closed (holiday)?
Ans: The palace will be closed to visitors on Friday.
Que: Who owns Chowmahalla Palace?
Ans: Nizam Mir Muhammad Azmet Ali Khan, Asaf Jah IX, known as Azmet Jah owns the palace
Que: Where is Chowmahalla Palace located?
Ans: It is located in Hyderabad, near to Charminar, Lad Bazaar